As most know, a severe outbreak tore through the Midwest and Mid-Atlantic yesterday as 83 tornado reports, 554 wind reports, and 42 hail reports occurred from Iowa all the way to New Jersey. The worst hit were Illinois, Indiana, and Kentucky, with Illinois taking a hit from an EF-4 tornado in Washington. At least 6 people have been confirmed dead, which is 6 too many if you are a meteorologist like myself. My thoughts and prayers are with these people, as I cannot imagine walking out of my basement or closet and seeing my belongings and entire home strewn about like Legos in a make-believe world.
I am writing this to explain the severity of this situation and focus on the inaction taken by the NFL during the Chicago Bears vs. Baltimore Ravens game at Soldier Field. The EF-4 tornado in Washington, IL had already occurred before the game and the same intense line of storms was heading northeast towards the Chicago urban sprawl. The NFL continued on with the coverage, as more than 60,000 fans sat in the almost 90 year old stadium. The game began as scheduled and after a half hour of play, the fans were cleared from their seats and hunkered down in the concourse areas of the stadium, hoping and praying that they wouldn't get hit by horrendous weather. Luckily, the tornado never hit, but 60 miles to the southwest of Soldier Field in Coal City, IL, a tornado developed and damage occurred, and the NFL dodged a bullet. The fans packed in the concourses could breathe a sigh of relief.
This should have never happened. The fact that the game began at the scheduled time put tens of thousands of people's lives at risk or what…a few dollars in CBS's and the NFL's pockets? Below is the excuse given in a USA Today article by NFL spokesman Michael Signora:
"Weather is unpredictable and there was a chance that the game could proceed without a delay. When lightning dictated that a stoppage was necessary, the procedures for such an occurrence (below) were followed."
Is weather totally unpredictable?
If it was, I wouldn't have a job. It is the details of weather that can be unpredictable.
It was the details that killed respected meteorologist/chaser Tim Samaras and his colleagues in the El Reno tornado this past spring. It was the details that threw the vehicle of Weather Channel's Mike Bettes into a field during that same event.
A severe event was predicted well in advance. Just look at the Storm Prediction Center's forecast for Sunday from 3:30 am EST Friday morning:
…and from 2:59 am EST Saturday morning:
..and from Saturday afternoon at 12:32 pm:
and Sunday morning at 12:52 am EST:
And what preliminarily happened laid over Sunday's forecast: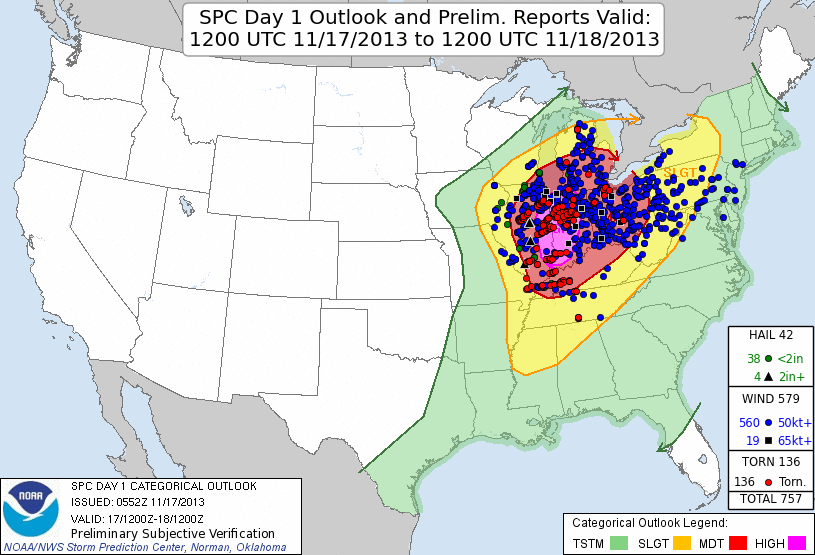 I'd say weather is predictable.
Even well before the game, I was on Twitter and plenty of meteorologists were upset and concerned as to why the game was still on schedule.
If in fact weather is so unpredictable according to you, then wouldn't that statement would be more of a reason to delay/reschedule the game?
Looking at the statement:
"When lightning dictated that a stoppage was necessary, the procedures for such an occurrence (below) were followed." 
Lightning does not always dictate the severity of a storm. There really was not a lot of lightning with these storms, but yet there were destructive winds.
I understand that being in a large stadium is better than being stranded in your small car that could become a projectile. Who is to say that other projectiles couldn't be thrown around in the stadium with the funneling of the wind inside of the corridors, though? Yes, a large stadium is a better option than standing under an overpass on a highway (overpass can collapse onto you, so never do that), but not by much as a nearly 90 year old field probably has weak areas in the structure.
One of the only positive things that came out of this is that the storm stayed south of Soldier Field and downtown Chicago. The other is that Bears fans from the suburbs hit by tornadoes may have been at the game and, thus, were safe from the worst.
Overall, this game should have been delayed at least a day in advance. There was plenty of time to reschedule. Technology in meteorology has progressed enough in the past decade to tell the general time frame that the line of storms would come through.
Weather can be predicted in advance and lightning does not always tell the full story Mr. Signora. The NFL averted danger and can feel humble about it as they go to the bank, but this could have easily gone the other way. The other sad part about this story is that residents of Illinois were upset that severe weather coverage was on instead of the game. I hope lessons were learned. May God bless the folks affected by these storms and help them pick their lives back up soon.